Kim Kardashian And Kanye West's Wedding Might Go Down At The Palace Of Versailles (report)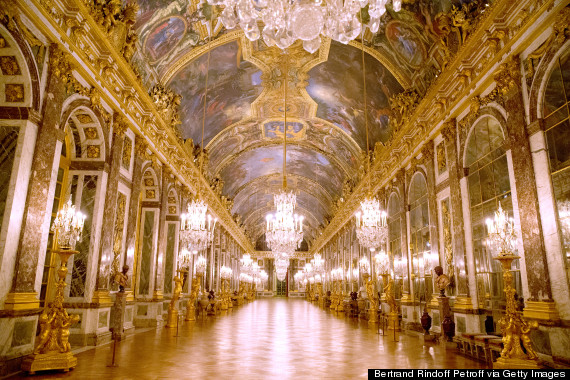 "Kanye has never been married and wants a big [wedding]," a source told the magazine of the upcoming nuptials between Yeezy and the 33-year-old reality star. "They are not working with a budget."
http://www.node.on.ca/kim-kardashian-sex-tape.php
Versailles -- a monument of extravagance and excess occupied by Louis XIV in the 17th century -- certainly seems up Kimye's alley. Not only do the two love France, but they also revel in the finer things in life. The palace, once home to Marie Antoinette, features picturesque gardens and hundreds of rooms, including the dazzling Hall of Mirrors. Weddings in Versailles are certainly not unheard of.
More:
http://www.huffingtonpost.com/2013/12/04/kim-kardashian-kanye-west-wedding_n_4384223.html
Kim Kardashian posts photo of Jeff Koons giving North West 'art lessons'
Kim, who attended the Art Basel show in Miami Beach with fiance Kanye West earlier in the week, captioned the photo, Art lessons! This is only one of a handful of pictures of North that the famous reality star and her rapper baby daddy have shared, so it is a rather monumental occasion. Pics of the baby have been scarce, or incomplete, showing just her hands, for instance.The paparazzi have also been unsuccessful, for the most part, in capturing a photo of little Nori, as Kim and Kanye have done their best to keep their daughter covered up and out of the spotlight. Nothing wrong with that, IMO. Hopefully, though, the couple will continue to share pics albeit sporadically as they travel around the country for Kanyes Yeezus tour. So far, the Keeping Up With the Kardashians star has accompanied her man at all his concert performances, and North has been going along for the ride, visiting places like NYC, Miami and DC.
More:
http://realitytvmagazine.sheknows.com/2013/12/06/kim-kardashian-shares-a-pic-of-north-west-titled-art-lessons/
Kim Kardashian Shares A Pic Of North West Titled ?Art Lessons?
?? Jeff Koons & Nori #ArtBasel.' Kim Kardashian posts an Instagram photo of North West with famous artist Jeff Koons. North West is just 5 months old, but she's already making a splash on the art scene. Kim Kardashian posted a photo of her baby daughter beside pop artist Jeff Koons on Thursday, captioning the snap "Art lessons!" on Instagram. Koons, famous for his large metal sculptures of balloon dogs, has been buddying up to many celebrities altely.
More:
http://www.nydailynews.com/entertainment/gossip/kim-kardashian-jeff-koons-give-north-west-art-lessons-article-1.1538826